4 reasons to remember the 2022 Dakar Rally
The magic of the Dakar Rally lies in the fact, that preparations for the next one start right after finishing the last one. And here are the reasons, why the Buggyra ZM Racing team says that this year's Dakar will not be forgotten.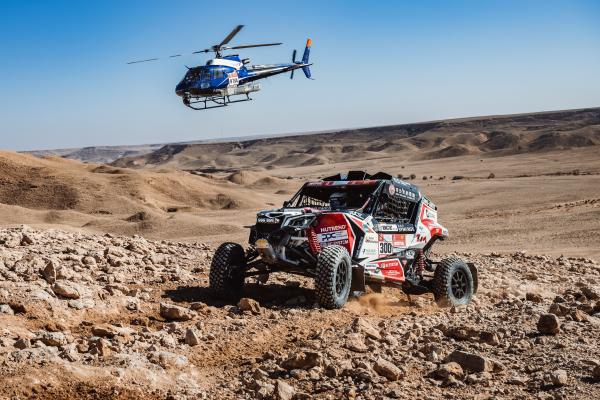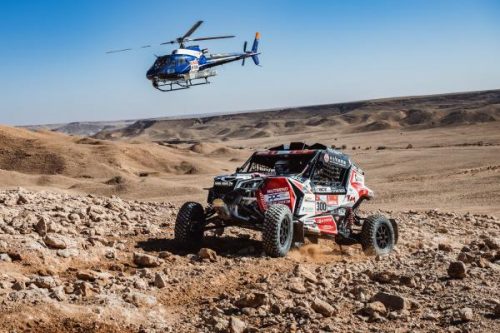 DUBAI, United Arab Emirates – January 20, 2022 /PressCable/ —
Strategy: It ended before it could even start…
In the Trucks category, the planned team strategy was gone even before the event actually began, following an injury of Téo Calvet, who then also caught COVID. "Throughout the whole year, we had managed to keep it a secret that Téo is testing with us in the UAE and in Saudi Arabia. That's why everyone was so surprised when he won the first stage of the Hail Rally International and then went on to finish in 3rd place overall. Téo was supposed to play the role of quick support to Ignacio, who would be calmer knowing he is covered. But then it all happened and even though Téo had been following all the restrictions, he caught COVID." However, the young French, who is successfully switching from asphalt to desert, should be at the Dakar Rally next year. "What didn't work out this year, could happen next year…"
Team: Helmets off…
Despite some mechanics, and David Vršecký, spent many months away from home, the team was working beyond possibilities. "My goal was to build a team where people won't take it just as another job. And the Dakar has shown that it has worked out. The mechanics had to put together two vehicles, and Josef's troubles did not come until the penultimate stage when everyone was already pretty much done with everything," said Martin Koloc.
"To get a podium at the very end – that was great. And with such a professional crew with Ignacio and Alvaro, really amazing. Also, I got to try driving for 40 kilometres with broken steering and doing a zigzag through Riyadh with a truck. Yet, the biggest moment came after that unlucky fourth stage. I went to sleep thinking that it's over. But then just two hours later, I was woken up and told to get ready that we're going back. When I and Robin started the vehicle, and the guys were screaming that it works, it was an undescribable feeling," added mechanic Tomáš Šikola.
Trucks: One Team Show
According to Martin Koloc, in the current environment, it is possible to fight for only 4th or 5th place in the Trucks category. But considering the competition in Iveco, MAZ and Renault trucks, it is still a valuable result. "The Buggyra team has never had such a good driver as Ignacio before. He's a three-time quad bike category winner, he knows navigation, next to him is a professional navigator Alvaro Leon, also a Dakar winner. And Ignacio has dunes pretty much behind his house, so he knows how to tackle them. However, the reality is that on Saturday we said that in the second half of the Dakar Rally, we're going to push to the limit, and beyond. We were no longer in contention for the overall classification. And we managed to take 3rd place in the final stage. That was amazing, but still, Kamaz is somewhere else. Especially in comparison to last year, when they were pretty much just controlling the pace in the second half, and targeted only the overall victory, not stage victories. This year, they were much faster. And that is why I think that nothing is going to change in the immediate future. The team boss Vladimir Chagin is a 7-time champion and a big authority, and his drivers, apart from Shibalov, know that a single mistake could cost them a seat, despite being multiple Dakar winners. That is why they work hard like an army… they're incredibly strong because their success at Dakar is one of the biggest prides of Russian sport, they've got lots of money and they know how to effectively spend it," described Martin Koloc the situation.
Yet, there is a light at the end of the tunnel. "The engineers, led by David, have done a great job and like after every Dakar, they will now focus on a thorough analysis and decide what to do next…"
Light prototypes: Believing in better tomorrows…
In the light prototypes category, the OT3 vehicles have shown their pace, but the Can-Ams have been victorious, as the Buggyra ends its three-year chapter. "When we went into it with Josef Macháček and David Vršecký in the middle of 2019, we were considered as fools. But now, hats off," summarised Martin Koloc the past three years, adding that next year, he is bringing to Dakar his two 18-year-old daughters Aliyyah and Yasmeen.
"At the Rally Hail, they both showed that they've got it. And the fact that Aliyyah won her debut race in the desert, that is something that could go into the Guinness World Records book." The twins will be preparing for the 2023 Dakar Rally mostly in the FIA Middle East Cup for Cross – Country Baja in Jordan, Qatar, Saudi Arabia and UAE. The series begins in the middle of February. While it is the most dynamically evolving category, the Buggyra's team principal believes that they can follow up on Josef Macháček's victory soon. "I say that knowing that there were 120 specials this year. Only bikes had more. It's because we've managed, thanks to Josef and David, to push the Can-Ams forward a lot."
More informations: https://www.buggyra.com/
Contact Info:
Name: Syed Ahmed
Email: Send Email
Organization: Buggyra Racing Organisation
Address: Emirates Towers, Sheikh Zayed Road P.O.Box 31303 Dubai, DUBAI, Dubai 000000, United Arab Emirates
Website: https://www.buggyra.com/
Source: PressCable
Release ID: 89060876